The Johnson Girls are Joy Bennett, Alison Kelley, Bonnie Milner, & Deirdre Murtha
Short bio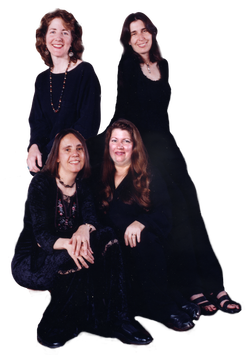 The Johnson Girls have been a force on the folk and maritime music scene for over two decades as the leading all-woman, a cappella maritime group in the world. Believing that sea chanteys and songs of the sea were the first real "World Music", Joy Bennett, Alison Kelley, Bonnie Milner, and Deirdre Murtha each bring a special influence to the group. Whether performing at packed international folk festivals, intimate venues, workshops, or presenting school or library programs, The Johnson Girls remain true to their mission of keeping chantey singing and its history alive, bringing women's voices to the fore, and encouraging everyone to join in the revelry. Widely acclaimed for their powerhouse performances of rousing work songs, sensitive renderings of haunting ballads and laments, and hair-raising harmonies, they sweep their audiences along in a tidal fervor. "The Johnson Girls, chantey singers from America, took the place by storm… Those who thought a chantey singer had to be male, bearded, and with a beer gut, needed to think again." - Cornwall Guardian (UK)
​
---
Photo for publicity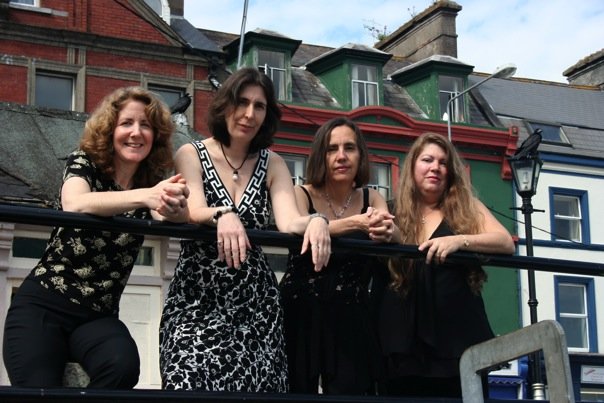 Longer Bio
​ "You are first rate! I didn't know women could sing like that." - Pete Seeger, 2001 Songs of the Sea Festival, NY

The Johnson Girls is an energetic, internationally acclaimed all-woman a cappella ensemble, performing traditional and contemporary music with an emphasis on songs of the sea and shore. With a sound that has been called "exciting," "haunting," and "uplifting," The Johnson Girls give powerhouse performances that bring audiences to their feet wherever they go.

"The Johnson Girls, shanty singers from America, took the place by storm….Those who thought a shanty singer had to be male, bearded and with a beer gut, had better think again." – Cornwall Guardian, UK

Whether leading a sing-along aboard the Peking at South Street Seaport in New York or firing up a festival stage, this group is a winner." – Craig Edwards – Festival Director, Mystic Seaport Museum

Sea music may well have been the first "world music." Ships were often melting pots, with crew-members from many countries, and who were heavily influenced by the music they heard while traveling around the world and from other crew members. These sailors incorporated into their work songs and other shipboard music the different rhythms and styles from their own often diverse cultures as well as those they encountered during their voyages. Each of The Johnson Girls was captivated by this music at different times in their lives, and came together in 1997 following the Mystic Seaport Sea Music festival to burst through the barrier of this previously male dominated genre.

Each of The Johnson Girls brings a specialty and style to the ensemble. Their extensive repertoire includes songs with an Afro-Caribbean influence, of the inland waterways, of fishing, mining, Irish, Anglo-American, Italian, French, and Canadian ballads and work songs, and much more. The Johnson Girls bring a unique interpretation to their repertoire while preserving the traditional roots of their music.

In addition to powerful main stage performances, The Johnson Girls have led participatory workshops and demonstrations during festivals and folk weeks/weekends on many topics including but by no means limited to: women and the sea, contemporary sea songs, harmony, sea chanteys 101, work songs: old and new, fishing: then and now, Afro-Caribbean songs, ballads, song collecting, landsmen, sailors and ladies, and more.

Following their performances at the Mystic Seaport Museum's Sea Music Festival in Connecticut, Festival Director Craig Edwards wrote: "…The Johnson Girls turned in magnificent performances at the 22nd Mystic Seaport Sea Music Festival, including a powerhouse main stage slot on Saturday night that demonstrated that you're not great female chantey singers, you're great chantey singers, period. … A world class act."

The Johnson Girls have 4 CDs including the most recent "On Deck & Below", "The Johnson Girls", "On the Rocks", and "Fire Down Below" have received rave reviews in the US and UK in Dirty Linen, Sing Out, Traditional Music Maker and Living Tradition magazines, The Cornwall Guardian, International Chantey Magazine, and the Folk Music Society of NY newsletter.


performances

Past International Main Stage Performances:

Festival du Chant de Marin, Paimpol, France
La Fête des Chants de Marins, Quebec, Canada
International Shanty Festival, Workum, the Netherlands
Bodmin Folk Club, Cornwall, UK*
Festival of Ports, Lisbon, Portugal
Wadebridge Folk Festival (aka the Cornwall Festival), UK
Lunenberg Folk Harbor Festival, NS, Canada
Warwick Folk Festival, Warwick, UK*
Kings Theatre, Annapolis Royal, Nova Scotia
Sidmouth International Festival, Devon, UK*
Trailside Inn, Mount Stuart, Prince Edward Island
Llantrisant Folk Club, Pontyclun, South Wales, UK*
The Mersey, Liverpool, Nova Scotia
Broadstairs Folk Week, UK
Maritime Museum of the Atlantic, Halifax, Nova Scotia
Cobh Maritime Festival, County Cork, Ireland

Past US Performances:

Folk Festivals

Old Songs Festival, Altamont, NY
Lincoln Center Roots Festival, NY, NY
New England Folk Festival (NEFFA) MA*
New Haven Folk Festival, CT
Philadelphia Folk Festival, PA
Mystic Seaport Museum's Sea Music Festival, CT**
Chicago Maritime Festiival, IL *
Portsmouth Maritime Folk Festival, Portsmouth, NH
Champlain Valley Folk Festival*, RI
Windjammer Festival, Camden, ME*
Tall Ships Celebration, Bay City, Michigan *
GottaGetGon Festival, Ballston Spa, NY
Turtle Hill Folk Festival, Rochester, NY
Little Red Lighthouse Festival, NY
Eistedfodd Traditional Music Festival, NY *
City Island Maritime Festival, NY*
The Great Hudson River Revival Festival (The Clearwater Festival), NY*
Ships to Save the Waters Festival, NY
Sea Music Festival, San Francisco Maritime National Historical Park, CA*
Songs of Sail 2000 in Kennebunk, Maine
Working Waterfront Festival, New Bedford, MA*
OPSail 2000, CT
Great Northern Catskill Heritage Festival, Hudson, NY
Inaugural Seafood Festival, Cape May, NJ
Music of the Sea Festival at the Texas Maritime Museum, Rockport, TX
Sound Waters Festival, CT*
Gloucester Heritage Maritime Festival, MA
OpSail 2012, CT
Weekend of Song, Folk Music Society of NY, NYC
North American Music and Dance Festival (NOMAD) CT*


Folk Clubs, Coffeehouses, Museums. Libraries & more:

Woods Hole Folk Song Society, MA
Blackstone River Theatre, Cumberland, RI
Vanila Bean Café, Pomfret, CT*
Hurdy Gurdy Folk Club, NJ
South Street Seaport Museum NYC***
Bread Box, Wilmington, CT
Rowayton Library Series, Rowayton, CT
Golden Link Concert Series, Rochester, NY
Folklore Society of Greater Washington, DC*
uNi Coffeehouse in Springfield, MA*
American Yacht Club Children's Hospital Dinner, Westchester, NY
Hoboken Historical Society, NJ
Music Mountain, CT*
Richmondtown Restoration Tavern Concerts, Staten Island, NY ***
Essex Book Signing, Tall Ship Peking, NY
The Barracks, Trenton, NJ*
Folk Song Society of Greater Boston, MA
Faulkner's Light Benefit Concert, CT*
Old Songs Concert Series, Voorheesville, NY
Branford Folk Music Society, CT*
Caffé Lena, Saratoga Springs, NY*
Minstrel Coffeehouse NJ*
San Francisco Maritime National Historical Park, CA*
Mystic Seaport Member's Day Concert, Mystic, CT
Friends of Fiddler's Green Chapter (Hudson Valley Folk Guild), NY*
Mystic Seaport Museum's Spring Concert Series, CT
Roaring Brook Nature Center, CT*
Norwalk Aquarium, CT*
Good Coffeehouse, NY, NY**
Long Island Traditional Music Association, NY
22 Below, NY*
Dahesh Museum, NY, NY
People's Voice Café, NY **
South Salem Library, NY
The Seamen's Church Institute, NY**
Brooklyn Museum first Saturday concerts, NY
Folk Music Society of NY Series Concerts*, NY, NY
RiverSing on the Blackstone, Pawtucket, RI
Peter Valley Crafts Fair, NJ
Hudson River Maritime Museum, Yonkers, NY*
Asheville Community Hall, MA
SWAN day, RI
Cranberry Coffeehouse, Binghamton, NY
Maine Maritime Museum, Bonyun Songs of the Sea Concert Series, Bath, ME
House Concert, Essex, CT
Mystic Whaler cruise with the Johnson Girls, New London, CT
Sounding Board, New Haven, CT
Tall Ships New London 2012
New Bedford Whaling National Historical Park, evenings in the park series*
BiValve, NJ Concert series
New Bedford Whaling National Historical Park, camp program
Christmastime at Sea, NY, NY
New Bedford Whaling National Historical Park, MA*
Ellis Island Charity Dinner, NY-NJ
Vanilla Bean Café, Pomfret, CT
Valley Folk, Corning, NY*



*2 or more, **5 or more, ***10 or more, appearances